For the last twenty-five years Steve Spurrier has been the unequaled "mouth of the south" when it comes to college football. The man who seems to have a one-liner for everything – from a rival team always ending up in the same second tier bowl game, "You can't spell Citrus without UT," to one of his star players having a problem with traffic tickets, "At least he'll have enough money to pay for it a week or so from now, but yeah, he needs to go to driving school" – the Coach nails them all. Yet Spurrier is so much more than just a one liner waiting to happen. He is one of the most successful college football coaches of all time, leading three different schools – Duke, Florida and South Carolina- to never before seen heights for each respective school. Spurrier also gave me some of the best memories of my young life, as a kid who grew up rooting for Florida in the 90's and Spurrier was a walking god. He did all this while playing within the rules and staying true to who he was as a man. He was also one of the best athletes of his time, winning a Heisman Trophy while at UF and playing in the NFL for a time. But the reason why we all truly love the man known for ruffling feathers… Who else can pull this off and no one bat an eye.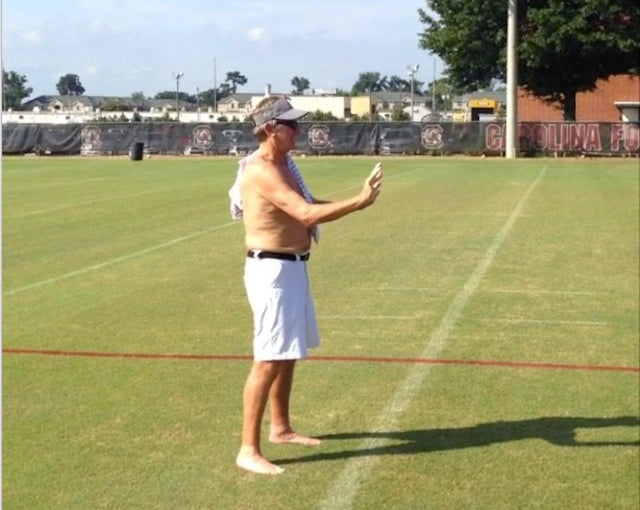 And with that we delve deeper into what made Steve Spurrier the man that we all love, or at least love to hate.
Steve Spurrier the Athlete: America has always been a sucker for athletes, and the beginning of the Steve Spurrier love affair starts with a great athlete. Spurrier was an all-state selection in football, baseball (he didn't lose a single start as a pitcher in three years), and basketball while also picking up All-American honors in football. After that Spurrier went on to the University of Florida for his college football days where he started for three years at quarterback, where he was a two time All-American and the winner of the 1966 Heisman Trophy. Spurrier began his national path down awesomeness with that Heisman Trophy or more specifically his Heisman moment… Spurrier solidified his Heisman with a last minute drive against Auburn that ended with him waving off the kicker, so that he could kick the game winning 40 yard field goal himself against one of Florida's biggest rivals. At that moment Spurrier showed America a man who had the confidence to do whatever he wanted and kick ass while doing it. After that it was all uphill for Ol' Ball Coach.
Steve Spurrier the Coach: After 10 years playing in the NFL, Spurrier eventually found himself as the head coach for the Tampa Bay Bandits in the USFL at only 37. Spurrier showed in the USFL that his teams could win and could do so with style, the Bandits were regularly near the top of the league in every major offensive category and racked up a 35-21 record despite having lesser talent. After the league folded Spurrier took a job with perennial loser Duke, a team that hadn't had any success since Ronald Reagan was an actor. In only three years the Blue Devils had back-to-back winning seasons and an ACC title. After leading Duke to the 1989 ACC title, the University of Florida needed a head coach and a dynasty was started. Spurrier walked into a mess, the Gators were under probation and had had only sporadic success since the beginning of the program. Spurrier took the Gators to the pinnacle of the college football world, winning six of the next twelve SEC titles and taking home the first National Championship for the Gators football team. But it wasn't just the wins at UF that made Spurrier special, it was the way he did it, with balls of brass and a mouth that ruffled more feathers than anyone else in the game. Spurrier captivated the college football world. Who else could call out Peyton Manning and then back it up? The man changed the face of college football with his wit, cockiness, and most importantly to the American public, his ability to win while doing it. Spurrier left the Gators to try his hand at the NFL, and although it wasn't a success, he eventually found himself back in the SEC although this time at the University of South Carolina. The Gamecocks had been a bunch of losers who were most known at the time for an embarrassing brawl at the end of their game against in-state rival Clemson. Spurrier took this team with a history of futility and has since taken them to the forefront of college football, racking up three consecutive seasons with at least 11 wins. He also has done so in true Spurrier fashion, driving rival Clemson coach Dabo Swinney to focus entire interviews on single comments he made.
Steve Spurrier the Man
Where does the man who has won the Heisman, played in the NFL and turned around three separate college football programs eat his lunch? Why Arby's of course. You see Steve Spurrier is the man. Seriously the guy should wear a sign that says "I'm Steve Spurrier and I Don't Give A Shit" between the Arby's picture, the shirtless practices and the multiple pictures of him at the Daytona 500, again shirtless, drinking a Coors.
This level of greatness is rarely achieved and when it is that person becomes a legend, if that person is already a legend he becomes beloved. That is where Steve Spurrier is, at the pinnacle of the greatest game in this country while also being a guy who could just as easily be your neighbor. It gives him a sense of realness that lets even the fans of rival teams connect with him. It's why when I asked my best friend (a huge Florida State fan) his thoughts on Spurrier he replied "People love SOS (Stephen Orr Spurrier) because he's what they want to be. A great football mind who's brutally honest and overly opionated and gives zero fucks." And that is a great way to describe the man that college football loves, a fan of one of the school his UF team beat for a national title even loves him, because he's that damn awesome.
Steve Spurrier, Quote Machine: It has been mentioned throughout and it is all true… no one gives quote like Steve Spurrier. The man has been a walking one-liner for years. With that said, here are my favorite Steve Spurrier quotes (including a couple post Florida):"You can't spell Citrus without U-T" : A little Spurrier classic on Tennessee always finishing in second place in the SEC, just missing out on the Sugar Bowl and playing in the Citrus Bowl three times in a row at that point.Always remember, Peyton Manning never beat Steve Spurrier when he was at Tennessee: "I know why Peyton came back for his senior year. He wanted to be a three-time star of the Citrus Bowl."After a fire at the Auburn football dorm burned 20 books we got this classic, "But the real tragedy was that 15 hadn't been colored yet."On his difficulties recruiting in the state of Alabama while at UF: "In 12 years at Florida, I don't think we ever signed a kid from the state of Alabama … Of course, we found out later that the scholarships they were giving out at Alabama were worth a whole lot more than ours."About the Dillard's Scandal at rival Florida State: "You know what FSU stands for, don't you? Free Shoes University."
Spurrier on why always enjoyed playing rival Georgia early in the season: "I don't know. I sort of always liked playing them that second game because you could always count on them having two or three key players suspended."
This one is a quote that has been attributed to Spurrier but probably isn't truly his: "We aren't LSU and we aren't Alabama. But we sure ain't Clemson."
That led to Clemson coach Dabo Swinney going on this rant:

Which gave us a quote that has had Spurrier on the mind of poor Dabo Swinney ever since: "I said, 'Well, what do you want me to do? I didn't say it.' Smart people don't believe everything they read, and they don't believe hearsay. … I guess Dabo believed it."